Legends Of Maui Volume 1:Maui Slows The Sun & Maui Attacks Tuna Roa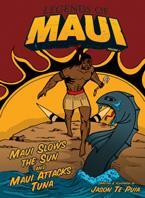 Stock information
: $17

.00

(NZD)

: 9781869485344
: Dummy
: Dummy
:
:
:
: 282x206mm
:
: 17.0
:
:
:
: books
:
:
: Jason Te Puia
:
: Paperback
:
:
:
:
: very good
:
: 48pp
:
: BxW line drawings
:
:
:
9781869485344
Description
Two of MauiÃÂÃÂÃÂÃÂÃÂÃÂÃÂâÃÂÃÂÃÂÃÂÃÂÃÂÃÂÃÂÃÂÃÂÃÂÃÂÃÂÃÂÃÂÃÂs legendary exploits ÃÂÃÂÃÂÃÂÃÂÃÂÃÂâÃÂÃÂÃÂÃÂÃÂÃÂÃÂÃÂÃÂÃÂÃÂÃÂÃÂÃÂÃÂàMaui Slows the Sun and Maui Battles Tuna Roa the Giant Eel ÃÂÃÂÃÂÃÂÃÂÃÂÃÂâÃÂÃÂÃÂÃÂÃÂÃÂÃÂÃÂÃÂÃÂÃÂÃÂÃÂÃÂÃÂàare re-told by author/illustrator Jason te Puia in the style of comicbook superheroes such as Superman and Batman.
First published 2005.
Stunning black and white illustrations and sharp story telling set the scene and give pace to each tale, re-told for a modern audience.
Especially suited to early teen readers, the innovative treatment given to these traditional stories will make them a favourite among all. This is the first in a multi-volume edition planned to follow many more tales, battles and journeys of the mythic figure of Maui.